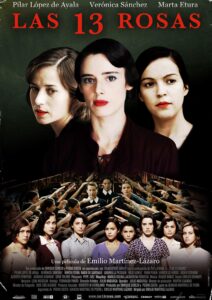 YEAR 2007
DIRECTOR Emilio Martinez-Lázaro
COUNTRY Spain
GENRE History
PRODUCED BY Enrique Cerezo P.C., Pedro Costa P.C., Filmexport Group
CAST Pilar López de Ayala, Verónica Sanchez, Marta Etura, Nadia De Santiago, Bárbara Lennie, Teresa hurtado de Ory, Miren Ibarguren, Celia Pastor, José Manuel Cervino, Luisa Martín, Francisco Manuel Perea, Gabriela Pession
WRITERS Emilio Martinez-Lázaro, Pedro Costa, Ignacio Martínez de Pisón
CINEMATOGRAPHY José Luis Alcaine
On 1 April 1939, the Spanish Civil War ended when Franco's troops entered Madrid. Fearing the blooding repression that was looming, many republicans fled the country but others couldn't or didn't want to. This was the case of the thirteen girls, all under legal age, who are the main characters in this true story. They were shot on 5 August 1939 against the walls of the Almudena cemetery in Madrid.
AWARDS Goya Awards: 4 awards: Best Supporting Actor (José Manuel Cervino), Best Cinematography (José Luis Alcaine), Best Original Score (Roque Baños), Best Costume Design (Lena Mossum). 10 nominations. / Unión de Actores: Best Supporting Actor (José Manuel Cervino). / Turia Awards: Best New Actress (Nadia de Santiago)